VSB-TUO took part in this year's Science Fair organised by the Czech Academy of Sciences. The University representatives offered a wide range of activities, including experiments such as Pharaoh's Snakes, puzzles, quizzes, a virtual tour of the data hall featuring supercomputers, and much more. This display at the largest popular science event in the Czech Republic was made possible thanks to the joint efforts of CEET, IT4Innovations, the Fraunhofer Innovation Platform, and the PhD Academy.
"I am very pleased that we could present ourselves at such an interesting and inspiring event. For the first time, we presented the Fraunhofer Innovation Platform, the only platform of its kind in the Czech Republic, a unique collaboration between our University and the prestigious Fraunhofer Institutes. Visitors from among the university students were introduced to the activities of our PhD Academy, which aims to be a "helping hand" for our PhD students and contribute to their professional and personal growth. I was very pleased to see how much interest the public has in science," said Jana Kukutschová, Vice-Rector for Science and Research at VŠB-TUO.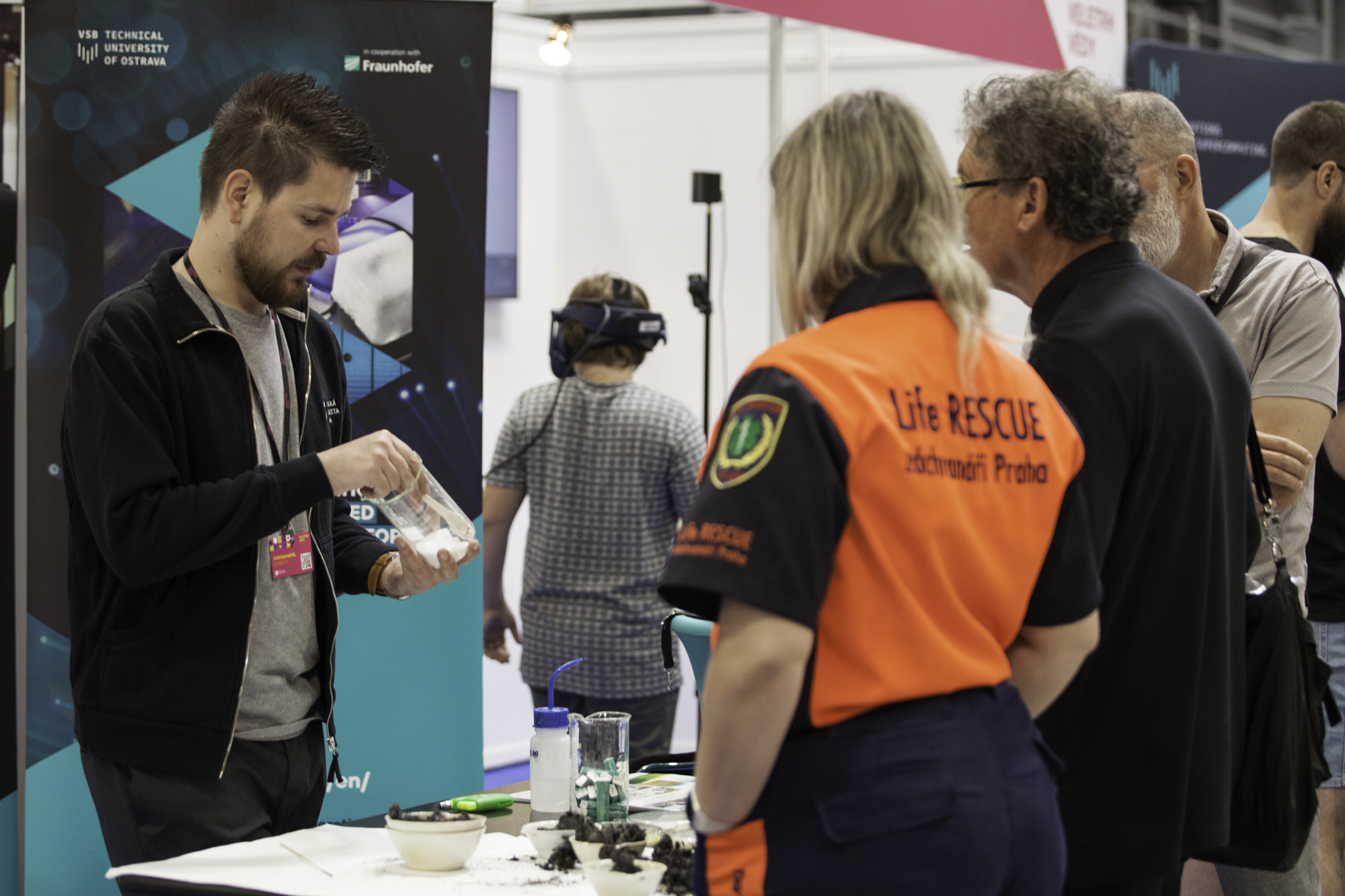 The Centre for Energy and Environmental Technologies (CEET) made its first appearance at the Science Fair. Their exhibition highlighted cutting-edge research in nanotechnologies and materials for low-carbon and sustainable energy solutions, as well as innovative environmental technologies. "This fair is a perfect place to showcase our university institute. Visitors were really interested in our programme. We took a peek under the hood of nanofibres during the production of cotton candy, and we also performed an experiment called Pharaoh's Snakes that involved a bit of chemistry," said Zuzana Wrbková, Marketing and PR Manager at CEET.
Representatives from the IT4Innovations National Supercomputing Center were present to educate visitors about the world of supercomputing. Through engaging competitions for both children and adults, visitors learned about the workings and capabilities of supercomputers. A virtual reality experience allowed visitors to explore the heart of these powerful machines among the supercomputers themselves.
"We joined the Science Fair for the third time, and it was clear that we must not miss this largest educational event in the Czech Republic. It is a great platform to introduce supercomputers and their purpose to general public. Both kids and grown-ups showed immense interest in the activities we had planned, and we are really happy about it," said Zuzana Červenková, spokesperson for IT4Innovations.
The Science Fair is an annual event organised by the Czech Academy of Sciences. Since 2015, it has been showcasing different aspects of science including natural sciences, engineering, humanities, and social sciences. Over the course of three days, the Science Fair offered over 100 exhibitions for visitors to explore, which were complemented by an accompanying programme in the form of panel discussions, lectures and workshops. This year, 46,000 visitors attended the fair.
Text: Martina Šaradínová, PR specialist for R&D
Photo: Zuzana Wrbková, Marketing and PR Manager, CEET